Maternity and Nursing Bras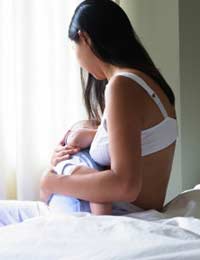 It's no secret that most women's breasts enlarge during pregnancy and special maternity bras are often needed to ensure proper support. Similarly, breastfeeding mothers usually find nursing bras help support their breasts as well as allow easy access when trying to feed a baby. Unfortunately maternity and nursing bras are not items that women are usually familiar with before having children so the learning curve can seem steep at the start of a pregnancy. Below are some helpful hints on choosing and caring for maternity and nursing bras.
Choosing Maternity Bras
Maternity bras sometimes double as nursing bras, but they can also be a unique type of bra all on their own. These bras tend to have full cups that cover the entire breast and many come without underwires as there has been concern about whether or not underwires put too much pressure on the breast and lead to blocked or damaged milk ducts. As women's breasts tend to enlarge gradually during pregnancy, maternity bras in more than one size may need to be purchased. However, some bras come with a variety of fasteners and cups so that they can be worn throughout pregnancy. Special maternity bras are also sold that are specifically targeted towards sleeping and sport during pregnancy. Many women find that they need to start shopping for their first maternity bra around the 16th week of their pregnancy, though obviously this time frame will be different for each woman.
Choosing Nursing Bras
Nursing bras serve two main functions: to support breasts that are enlarged due to milk and to allow easy access to the breast during breastfeeding. For some women purchasing a bra in stretchy material that allows them to simply pull it up over the breasts during feedings is acceptable. For others, investing in a bra with cups that snap open is more desirable. Still other women prefer nursing bras with zips under the cup. There are also nursing bras available specifically for evenings and sleeping that tend to be made out of lighter materials. Whatever the type of nursing bra, however, most women find that bras made out of cotton with wide straps and good fastenings are the most comfortable. Nursing bras can be bought comfortably within the last month of pregnancy as breasts are of a similar size at that point to what they will be while a woman breastfeeds.
Caring for Maternity and Nursing Bras
Most maternity and nursing bras come with detailed instructions of how they should be washed, dried and stored. Many women will find that a gentle lingerie cleaner and hand-washing are a good way to go. Laying bras flat to dry, or draping them to allow them to drip dry, is also popular. Storing bras in a cool area, away from direct sunlight, in which air is allowed to circulate is a good idea.
Maternity and nursing bras are items that each woman will need to select for herself. Having a professional help with sizings and selection is a good idea so that a woman can be confident that she has found that best bra for her body and her lifestyle.
You might also like...