Breast Cancer and Men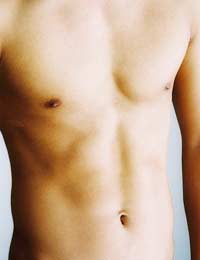 Though breast cancer is primarily seen in women, approximately 300 men are diagnosed with breast cancer each year in the United Kingdom. However, the anatomy of a male breast differs from the anatomy of a female breast and breast cancer thus manifests itself a bit differently in men than in women. Because men can also develop breast cancer, they should be just as vigilant as women about observing changes in the look and feel of their breasts. If something seems unusual, men should report their concerns to their GP.
Anatomy of the Male Breast
The anatomy of a male breast differs from that of a female breast. While a female breast contains a system of mammary ducts and glands that allows for the production of milk during pregnancy and breastfeeding, a male breast only contains rudimentary mammary cells. Male breasts also contain much less fatty tissue than female breasts, though overweight males may develop larger breasts due to similar deposits of fat. However, like females, male breasts are located on top of the pectoral muscles of the chest and under a nipple that is surrounded by an areola.
Detecting Male Breast Cancer
Just like women, men can do much to detect breast cancer at an early stage. Setting aside time to regularly look at and feel their breasts will allow men to become familiar with what their natural breasts are like. If a lump is felt in the breast at any time it should be reported to a GP. Similarly, itchy or painful nipples, changes to the nipples, nipple discharge, rashes on the breast, rashes near the nipple and/or any changes to the skin of the breast (dimpling, puckering, etc.) should all be reported as these can be signs of breast cancer in men as well.
Diagnosing Male Breast Cancer
If changes are observed in male breasts the first step to investigating these changes is usually a physical examination of the breast conducted by a doctor. If the doctor believes that further investigation is necessary then other tests may be carried out. Mammograms or x-ray of the breast is one way of looking for changes in the breast, though an ultrasound or a scan using sound waves is often regarded as more helpful for this. If masses are detected then a needle aspiration (sucking liquid out of the mass via a needle) or biopsy (extraction of a tissue sample from the mass) will likely be used in order to be able to view cells under a microscope. If cancer cells are detected then breast cancer can be diagnosed.
Treating Male Breast Cancer
Breast cancer is treated in men similarly to how it is treated in women. Depending upon the type and stage of cancer, as well as other factors specific to the individual such as his health history and personal preference, breast cancer may be treated by surgery such as a lumpectomy (removal of the lump and some surrounding tissue) or mastectomy (removal of the breast), chemotherapy, radiotherapy and/or hormone therapy. Clinical trials regarding the treatment of breast cancer in men are also often in progress, so men might be invited to join in these as a treatment option. Before agreeing to this, men should make sure that they understand exactly what is being investigated, what the treatment will entail, and what will be done if the proposed treatment does not seem to work for them.
You might also like...