Breast Cancer and Nutrition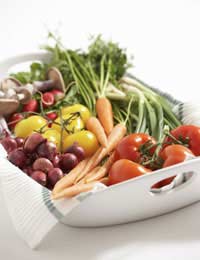 Medical links are being found between diet and breast cancer, so eating healthfully and maintaining an appropriate weight are important not just to avoiding breast cancer, but also during treatment for breast cancer and while in recovery from breast cancer as well. Ensuring proper nutrition then is one strong way to help fight breast cancer.
Nutrition to Help Avoid Breast Cancer
Most doctors recommend eating a healthy diet to help avoid breast cancer and a healthy diet means cutting out foods that may be linked to breast cancer. To this end, foods that are processed, high in sugar and fat, unrefined grains and an excess of red meat and dairy products should all be avoided. It is thought that such foods increase the body's sensitivity to insulin which in turn increase the production of sex hormones which in turn can increase the risk of breast cancer. By avoiding these foods and replacing them with at least five servings of fruits and vegetables and foods that came from plant sources (nuts, seeds, rice, etc.) women may be able to lower their risk of developing breast cancer. However, it should noted that no food or diet specifically causes breast cancer, and no food or diet can specifically prevent breast cancer.
Nutrition While Treating Breast Cancer
Women undergoing treatment for breast cancer need to eat well in order to remain strong to fight this disease. Nutrition can also be altered at this time in order to help deal with the side effects of treatments such as surgeries, chemotherapy and radiotherapy. Eating for hydration, to lose or maintain weight and to fight fatigue is also important. Unfortunately, while treating breast cancer may women experience nausea, vomiting, constipation, diarrhoea, sore mouth and or a sore throat, so eating can become difficult. No matter what the side effects, a woman's diet must still remain rich in vitamins, minerals and other nutrients so continuing to try to eat a wide variety of fruits and vegetables as well as whole grains, nuts and seeds will likely be important. Women should discuss an appropriate diet during treatment with their doctors, though it must be remembered that no diet can cure breast cancer.
Nutrition While Recovering From Breast Cancer
Though there has not been any firm links established between food and the recurrence of breast cancer, eating a healthy diet is suggested for everyone so this is no different for breast cancer survivors. While it can be tempting to celebrate life by indulging in decadent foods, limiting indulgences is important. Fresh fruit, vegetables, whole grains, fish and appropriate amounts of red meat and dairy are all aspects of a healthy diet. Occasional treats may also be included, but they should not become routine.
While there is thought to be a link between diet and the development of breast cancer, taking care to ensure proper nutrition both during treatment for breast cancer and while in recovery from breast cancer is also important. This can be hard if a woman is experiencing side effects from treatment, or wants to celebrate life with a rich, indulgent diet, but healthy eating must become a way of life for women intent on avoiding or surviving breast cancer.
You might also like...