Different Bra Styles for Every Shape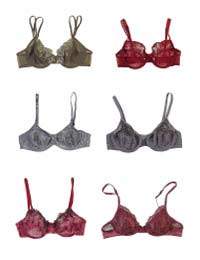 The type of bra that a woman wears should depend upon three factors: the size of the woman's breast, the type of clothing that a woman wears and how active the woman is. Below is a discussion of a number of the most common types of bras on the market today.
Adhesive Bras
An adhesive bra is a type of strapless, backless bra that adheres to the skin so that cups cover the breasts but there is no other material available to strap it to the body. These bras provide minimal support, but they do provide coverage to keep nipples and breasts from being visible through fabrics.
Built-In Bras
Built-in bras are not truly bras as they are a type of lining within a shirt or swimsuit that offers women some support when there is not enough room to wear a bra beneath the garment. Generally the level of support provided by built-in bras is minimal, though they are more supportive than going totally bra-free.
Camisoles
Camisoles are also not truly bras but rather a type of undershirt that provides coverage for the breasts but no support. Women with very small breasts often prefer camisoles to bras and women in colder climates may prefer the extra layer underneath their clothes. Many camisoles are made of silk and lace and are designed to peek out beneath cardigans or blazers to add a touch of femininity to an outfit.
Front Closing Bras
Front closing bras are those that snap, hook or tie in the front rather than the back. These bras are not as common as back closing bras not only because they only provide one level of closure (and therefore can not be adjusted to provide support as most back closing bras can), but also because the design of front closing bras can be very old-fashioned and the amount of fabric involved make them less versatile to be worn under a number of garments.
Long Line Bras
Long line bras are also a less common style of bra. These bras have a full cup and straps, as well as fabric that extends down to the waist. This fabric may even be boned so that it is useful in reducing the size of a woman's stomach to fit into tight clothing. Long line bras provide a good deal of support for fuller figures, but the amount of fabric present means that they must be worn under sturdy clothing and are not useful for wearing under more daring styles.
Padded Bras
Padded bras are those that are literally padded with extra fabric or even gel or fluid-filled sacs to make a woman's breasts appear larger. Women with smaller busts often enjoy wearing padded bras.
Push-Up Bras
Push-up bras are padded with extra fabric on the bottom half of the cup in order to push the wearer's own breasts further up to create the illusion of a larger bust. Again, women with smaller busts often enjoy wearing padded bras.
Racerback Bras
Racerback bras are those that have a T-back style. This is a very supportive design, so women with larger breasts or who are particularly active often enjoy wearing racerback bras. However, this very noticeable design does not work well with clothing that has a lower back.
Seamless Bras
Seamless bras can be of any design style and simply are stitched so that no seems are visible. This is often preferred by women of all bust sizes who will be wearing tight clothing and want to achieve a clean silhouette. Some styles of seamless bras are called "T-shirt bras" for this reason.
Sports Bras
Sports bras are those that are designed specifically for wear during athletic activities. Very often these bras are sturdy, made of restricting fabric and are designed without cups. Women with larger breasts may prefer these bras because they offer a great deal of support, however some women do not like the lack of definition offered from sports bras which can create the look of one bust rather than two distinct breasts.
Strapless Bras
Strapless bras are those that are not held up by straps. Adhesive bras are one type of strapless bra, though many strapless bras do have a band running around the back to provide a method of closure. Women with large busts may have trouble finding strapless bras that offer good support, though this style is favoured by women who wear tops that have no straps.
There are many different types and styles of bras. Women interested in investing in new bras should have their measurements taken by an experienced bra fitter and discuss their lifestyle and fashion preferences so that they can find the best types of bras to suit their figure and activity levels.
You might also like...
wow ! so much info in one place, thank you so much
joycexy
- 18-Sep-13 @ 6:50 PM