What Is Breast Reduction?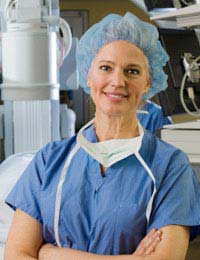 Surgical breast reduction, also known as reduction mammoplasty, is a type of cosmetic surgery that removes excess fat, glandular tissue and skin in order to reduce the size, shape and/or fullness of the breasts. There may be many reasons that a woman is interested in reducing the size of her breasts, though women should understand the surgery before making any firm decisions. Discussing this procedure with a surgeon, including potential risks and side effects, is highly advised for women interested in breast reduction surgery.
Choosing Breast Reduction
Breast reductions may be sought for a variety of reasons, both psychological and physiological. Some women may have always felt uncomfortable about their breast size which in turn contributed to low self-confidence or depression. Having problems such as being unable to find clothes that fit or an inability to participate in sports due to larger breasts may also have increased their negative emotions. Larger breasts can also contribute to back pain, shoulder pain and neck pain as well as discomfort associated with ill-fitting bras. In certain weather conditions, skin rashes or even infections may have been common due to larger breasts as well. Women who have noticeably different sized breasts may also choose to have one reduced, and men with gynaecomastia (abnormally enlarged breasts) may seek breast reduction as well. Women who have undergone breast reconstruction, such as following a mastectomy, may also choose a breast reduction if their breasts did not end up of similar sizes.
Reduction Mammoplasty
Reduction Mammoplasty is usually carried out under general anaesthesia. The technique used for breast reduction will depend upon the patient, her breast composition, how much reduction is requested and what the patient and surgeon agree will be best for her. This surgery begins with an incision which may be a circle around the areola, a key hole pattern around the areola and extending vertically downwards, or an inverted T pattern. Fat, glandular tissue and skin are then removed through the incision or there may even be liposuction involved if there is a great amount of reduction desired. The nipple is also repositioned at this time and the areola resized as needed. The incision is then closed with sutures (stitches) which may be dissolvable or need to be removed about a week later. The surgeon will then issue care instructions for the recovery period which should be followed exactly for the most successful recovery.
Women who are uncomfortable with a larger breast size may consider cosmetic surgery to reduce the size of their breasts. Whether they seek cosmetic surgery for physiological or psychological reasons should be discussed with a surgeon so that everyone involved is on the same page about what is expected of the surgery and why it is being undertaken. During this time the procedure itself should be explained so that a woman fully understand what will happen to her breasts and what to expect when the surgery is complete. Most surgeons will be more than happy to discuss these matters at an information appointment.
You might also like...